The Offshore Developer Advantage
Offshore development can help businesses offer innovative and disruptive solutions that cater to their target market's unique needs. With these solutions, you can easily close the gap that exists between the needs and existing solutions.
Overview of Offshore Development
Offshore development is when you outsource all your software development requirements and tech upgrade needs to a core development company. You will outsource your requirements to countries that offer competitive pricing and increased accessibility to a skilled talent pool.
Most often the tech partner and your business might operate in different time zones. This allows you to complete the project on time. As the offshore development company has the resources and technology, it can offer compelling solutions aligned with your business goals.
Moreover, they recognize the niche needs, your country's culture, and organization hierarchy better. As a result, they can develop solutions that win you over.
Who Should Hire Offshore Developers?
One of the most important questions that you must answer before hiring an offshore developer is- do I need one? Here are all the business types that may benefit from partnering with an offshore development team.
Startups work on a stringent budget and need someone who can help innovate without impacting budget constraints.
SMBs will have budget and timeline constraints as they need to fulfill their goals within the specified time. That's why they must partner with offshore development companies
Large enterprises can easily assemble a larger team with skilled resources for specific project requirements.
The best part about offshore development is that all businesses and enterprise types can benefit from it.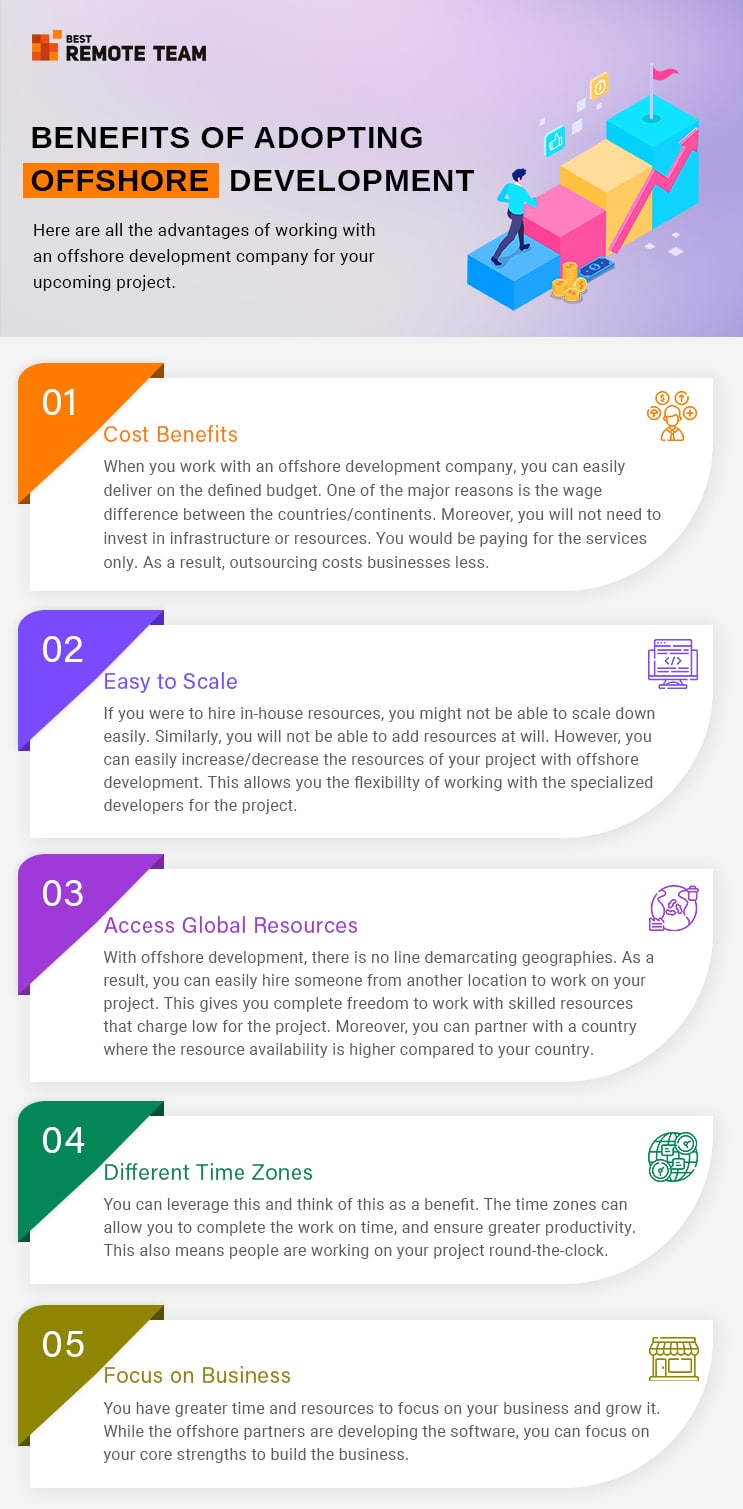 Read More: 5 Advantages of Software Development Outsourcing to India
Challenges you face with offshore development
Offshore development is a boon you must leverage. However, there are challenges that you must know and overcome to optimize the development strategy.
Cultural Issues: If you are working with someone from a different culture, the discord can cause issues in the development processes. It can impact the dynamics of the project and lead to productivity issues.
Communication Difficulties: Say you and your development company don't speak the same language or work at a similar timezone. You will face issues connecting and explaining your problems. Moreover, if you have different non-verbal language and communication practices, it can cause more trouble.
Security and Safety Concerns: If you are working with vulnerable and private data, you might be worried about its safety. Third-party developers can pose a threat to your data. Working with them using highly confidential data can lead to complex protocols.
Quality and Delivery: It is not possible to track and measure the progress of the project. You may not be aware of the bottlenecks or causes of delays. In some cases, quality may also be an issue when working with offshore development companies.
The Effective Strategies for Cost-effective Innovation
If you want to innovate with a stringent budget, you might want to define the proper strategies. This would help achieve the best business outcomes by partnering with an offshore development company.
#1 Define the Project Scope
When you begin software engineering and development without charting the course of development, you fall into a deep pit. You will begin spiraling into complexities and face unnecessary challenges. Moreover, you might also notice an increase in budget and reduced efficiency from the team.
Naturally, fixing the scope can save you a lot of trouble. When the developer understands what they are expected to deliver, they will offer better results. Moreover, it would help you stay true to your budget.
#2 Implement Agile Methodologies
Agility is the key to fast results. If you want to deliver high-quality solutions within a defined timeline, you must incorporate agile methodology. Using Scrum or Kanban can give you the freedom to set priorities, use iterative development, and optimize resource allocation.
You can easily build-test-commit the code for efficient and fast development. Eventually, you will notice high-quality solutions.
#3 Better Communication Protocols
When you are working with developers, it is important to keep track of the development progress. You must know where the developer is stuck and how you can help them. excellent reporting abilities and metric definition can help you manage progress.
You should ensure transparent and regular communication with the team to ensure the best outcomes.
#4 Use Modern Tools & Technologies
Whether you are planning a development tool or a technology to enhance collaboration, make sure to incorporate the right infrastructure. With these tools, you can manage the project effectively and complete it on time. As there are several project management and collaboration tools, you might notice that it removes the gaps quickly.
#5 Excellent Project Management
You must ensure the best project management capabilities within the team. Appoint someone who would be looking over the project and maintain the milestones. They would be responsible for resource allocation, planning, defining the timelines, and monitoring.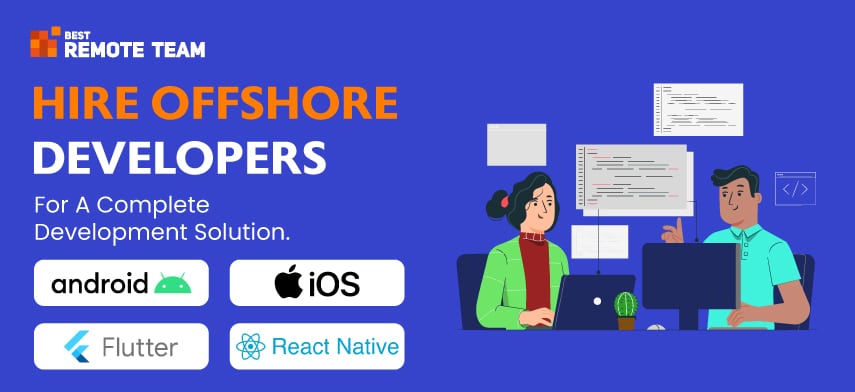 How to Leverage Offshore Developers for Cost-Effective Innovation?
When you are planning to invest in an offshore development company, you must know how to build collaborations. These tactics can help you leverage the partnership.
#1 Match Skill Set & Requirements
You must define the scope and gather requirements before collaborating with the offshore development company. The clearly outlined scope will tell you about the specialists and experts you need to help build the solution.
It is important to match the skills with the requirements to find the perfect partner. If you need an Android application, you must look for expert Android app developers. If your project requires Swift developers, look for senior or highly skilled developers.
#2 24/7 Availability
When you choose a person from a different time zone or geography, they can offer expertise round-the-clock. They can easily clear the gaps, solve the bugs, and ensure better productivity with the timezone difference.
Moreover, owing to their availability in your time zone, you can easily connect to understand bottlenecks and ensure smooth development.
#3 Flexibility and Scalability
Your project may require different resources at separate stages. For instance, you need UI/UX designers during the design phase. You might need developers and a testing team while your app goes into the testing phase.
You can leverage their team and scale the resources to manage your needs easily. If you need specific resources, they can provide them immediately. At the same time, you might want to scale down a few unnecessary resources. You can easily do this with an offshore development company.
#4 Infrastructure Access
Whether it is modern tools or development resources, you have easy access to the necessary infrastructure. They would be ready with the appropriate collaboration tools, project management technologies, and development infrastructure.
As a result, you can innovate without investing your money in gathering the essential tools for your development needs.
Their infrastructure also supports your remote development and communication needs, thus ensuring smooth development processes.
#5 Rapid Prototype Development
You must partner with an offshore development company to test the pulse of your market. You can leverage prototype development to know if your market is ready for the solution.
Offshore development companies can translate your ideas into prototypes with greater ease. It allows you to ideas ideas faster and accelerate the development processes.
Best Practices to Work with Offshore Developers
We have seen what can help you leverage the partnership with offshore developers. Here we will look at the best practices to ensure a smooth partnership.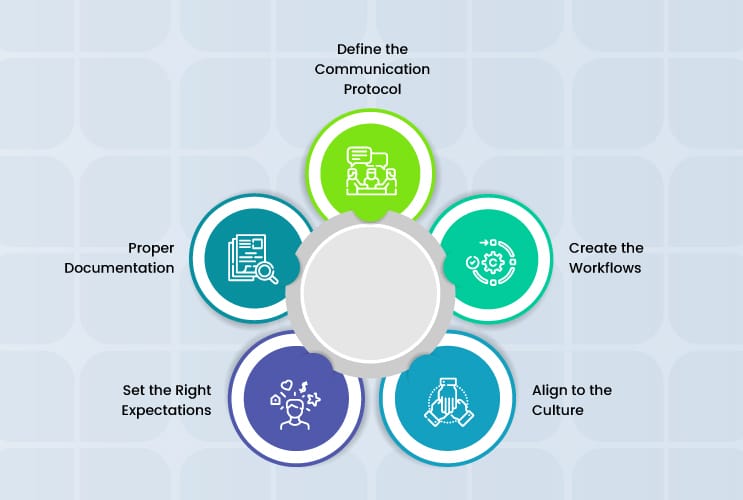 #1 Define the Communication Protocol
You may need to collaborate with the offshore developers to understand the milestones achieved. They can also help track the development progress and address queries. Defining communication protocols can help you foster immediate communication requirements. You would know how to connect with the developers and keep up with the development needs.
#2 Create the Workflows
When you look at the entire project, it can seem humungous and difficult to achieve. However, you can use workflows to assign tasks, define the milestones, set deadlines for each small task, and track the progress.
You can also use the workflows for iterative development and quick requirement completion.
#3 Align to the Culture
It is important to foster cultural awareness for better working standards. You might want to create a two-way understanding of the organization and working culture. If you feel you have a culture fit with the organization, you can proceed with the work.
It is equally important to leverage the timezone difference to achieve the tasks on time.
#4 Proper Documentation
Knowing the scope is not enough for both parties to work smoothly. You must have a written document specifying these requirements. you need to ensure that the document is complete with design guidelines, tech specifications, project specs, and wireframes.
You must also add changes to the document for better version tracking of the application.
#5 Set the Right Expectations
The clarity of objectives is equally important. You must set clear expectations concerning app development with your offshore developers. It is important to address the bottlenecks, issues, and other challenges in development.
ROI and Cost Analysis: Offshore vs. Onshore Development
As we discuss cost-effective innovation, we must look at the returns you achieve from the collaboration. Knowing whether you can improve your returns with offshore development is equally important.
Question- How do you calculate the ROI for offshore development? There are three major aspects that will help you account for the returns.
The cost you have saved: If you were to choose onshore developers, you might spend more on hourly charges. You will save this and add it to the profit box by outsourcing.
Delivery time for the project: When you work with the offshore development company, they are available 24/7 to connect with you. As a result, you get to launch early.
Optimal utilization of resources: As you have outsourced to expert developers, your resources can focus on core jobs.
There are three aspects to consider when you are comparing the two. This would help you make the right choice concerning ROI.
#1 Cost Benefit
The first part of the cost includes the resource cost. You would be comparing the hourly rates, salaries, or other resource costs in both cases.
Similarly, you need to define the operational costs, which include overhead costs, infrastructure expenses, and others. You might save a bit over there when you choose an offshore development company.
Lastly, you would be hiring experienced project developers. As a result, you get explicit experience and accelerated time-to-market. this results in minimum risks.
Overall, you will notice a seamlessness in cost-benefit with offshore development.
#2 Quality Analysis
When you are considering working with an offshore partner, you must assess the quality of development. Don't let cost savings let you ignore the quality requirements. Only high-quality solutions guarantee successful conversions.
Similarly, you must look for challenges while analyzing the quality of the solution. This would help you mitigate risks related to miscommunication or other scope/quality issues.
#3 Long-term Impact
When you plan innovation, you must look at the long-term impact of the same. Answer the question if the innovation would accelerate business growth. You should also look at how you can stay competitive despite adopting offshore development.
Read More: Outsource Mobile App Development for Business Growth: The Definitive Guide
How to Mitigate Risks and Improve Quality?
If you are collaborating with an offshore development company, you must ensure minimal risks. It is equally important to offer high-quality solutions.
Here are a few ways to mitigate the risks and assess quality needs.
#1 Incorporate Top Testing Processes
You must ensure that you have implemented the best testing processes for a complete quality solution. Include the top testing aspects including unit testing, integration, and user acceptance tests for early diagnosis and debugging.
You must ensure you are looking at all the functional and performance requirements posed by your company while testing the solution.
#2 Implement Regular Monitoring
It is important to define the metrics for your application. When working with offshore developments, regular monitoring and tracking of metrics is important. These metrics should be aligned with your project objectives.
It is equally important to seek real-time reporting from the developers. It would help you realize if the milestones have been achieved.
#3 Escalate Bottlenecks Immediately
If you are noticing issues in the development or experiencing delays, it is important to escalate the same immediately. Having proper and prompt communication channels can help manage delays extensively.
You can align the development progress to your defined project goals.
#4 Review Code
Code review is a collaborative effort. You must put some thought into ensuring timely and collaborative code reviews. This would ensure that the code adheres to the standard quality defined. you can also improve the quality of the codebase and enhance the code's abilities.
Future Offshore Development Trends
As a growing business, you must be aware of the long-term shifts in offshore development trends. Here are the top trends that will define the landscape.
#1 Remote-first Work Environment
With a remote-first environment, you can easily enhance the collaboration between offshore and onshore companies. You will also notice a rise in hybrid models to accelerate project outcomes and derive quality solutions.
#2 AI-Integration and Automation
Using automation and AI-integrated methods, you can accelerate the accuracy and efficiency of your business models. You can also manage routine tasks and reduce manual efforts. This will help you be more strategic and creative with your app development.
#3 Cybersecurity Focus
A lot of companies would focus their efforts on enhancing cybersecurity and improving the privacy standards for data. They would be able to deliver secure data transfer, storage, and communication protocols for safe access.

Conclusion
Partnering with offshore development companies can help you save more and accelerate timelines. It will help you control the budget and ensure proper innovation for the software idea.
It is important to conduct a cost-benefit analysis before partnering with the offshore development company. At the same time, you must look for developers who offer the skills you need to boost the development process.
Best Remote Team can help you connect with suitable development partners and offer flexible engagement models. Connect with our team with your work scope and requirements and we will help you choose the best partner.