What Is a Personal Finance App?
A personal finance app helps users to manage their daily expenditures, monthly bills, accounts, investments, and other finance-related matters. You can streamline your finances easily with a robust personal finance app.
You can also link your finance app with your bank and other finance accounts to clearly understand your current financial position. Furthermore, it helps you spend more wisely by evaluating and analyzing your finance habits, history, and budget goals.
Users can manage their finances well with a feature-rich personal finance app while considering future finance goals.
Why Develop An iOS Personal Finance App?
iOS apps have high standards. Deploying an iOS app on Apple App Store takes work. Your app must follow all the deployment regulations to meet the criteria. Such high-quality standards make iOS apps an instant hit among audiences.
Developing the best finance app for iOS can help target your audience who use Apple devices. Apple has the best loyal audience, and you can create a feature-rich, scalable, and secure personal finance app to woo them.
Developing an iOS personal finance app should not be a complicated task. You only need a comprehensive mobile app development strategy and a reputed mobile app development company.
Developing a mobile app will be accessible when you know what your audience looks for.
There are various personal finance apps available on Android and iOS platforms. Find a gap where your app can fit in. Research your competitors and the features they offer. Here, you can make a difference by offering something unique and unprecedented to impress your audience.
Personal Finance App Market Scenario
The future of personal finance apps seems promising. A report by DataIntelo suggests that the personal finance app market will grow at a CAGR of 16.5% from 2022 to 2030.
The increased usage of smartphones is the main attribute of this projected growth. In addition, people are becoming more aware of their personal finance management. This will also lead to the growth of the personal finance app market.
Android has the highest market share of over 60%, thanks to easy availability, high-end customizations, and low cost. On the other hand, the market share of iOS will increase extensively in the upcoming years. The reason they offer is the launch of iOS 11 and some fantastic features such as person-to-person payment and improved Siri support for financial queries.
A report suggests that 75% of smartphone users have used at least one app to manage their finances. The same report also indicated that 6 out of 10 people preferred mobile apps over websites to manage their finances.
Going for finance app development can be a profitable step, keeping in mind this sector's steady and promising growth in the upcoming years.
Why Do You Need a Finance App?
Here is a list of reasons you should have a personal finance app on your smartphone.
You can check your spending habits.
A more transparent view of all your finances, accounts, and portfolios.
Come up with better financial advice and suggestions.
You can make a budget with a few clicks with all details.
A personal finance app is easy to use and operate with user-friendly features and functionalities.
It reminds you of essential finance reminders to avoid late payments.
You can have your accounts with pay-and-receive accounts.
You can make beneficial financial decisions and save money.
You can meet your financial objectives in the long run.
Allows you to make online transactions.
Types Of Personal Finance Apps
When developing the best finance app for iOS, you must also know the types of personal finance apps you can make.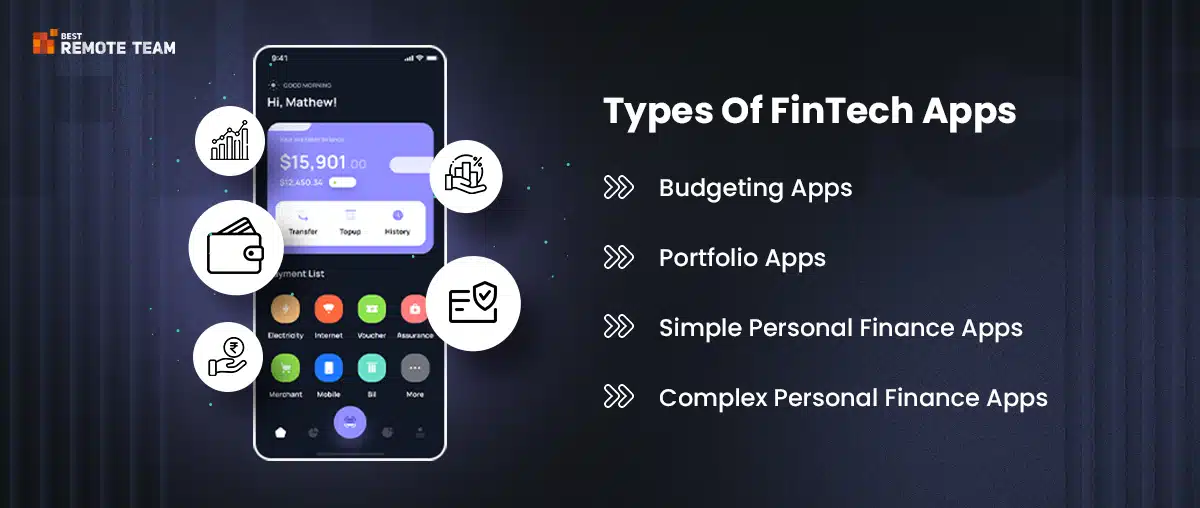 1. Budgeting Apps
Budgeting apps allow users to design a monthly or yearly budget for their finances. The app should have features such as budget planning, secure authorization, push notifications, sync with other financial and banking accounts, etc.
2. Portfolio Apps
Here, users can easily manage their portfolios and other investment folios. Creating the app allows users to see their portfolios and check their progress.
3. Simple Personal Finance Apps
Here, users cannot sync their bank accounts. The risk factor for these apps is almost zero. Users can add personal finance entries manually and manage their day-to-day financial activities here. However, the risk of errors is high due to manual mistakes a user might make.
4. Complex Personal Finance Apps
Users can easily sync their bank and other financial accounts into the app. It will allow you to see all essential transactions and details in one app. Ensure the app has all the security measures to safeguard sensitive data.
Top 3 Personal Finance Apps to Watch Out For in 2023
Here is a list of top-notch personal finance apps with unique features and user-friendly navigation.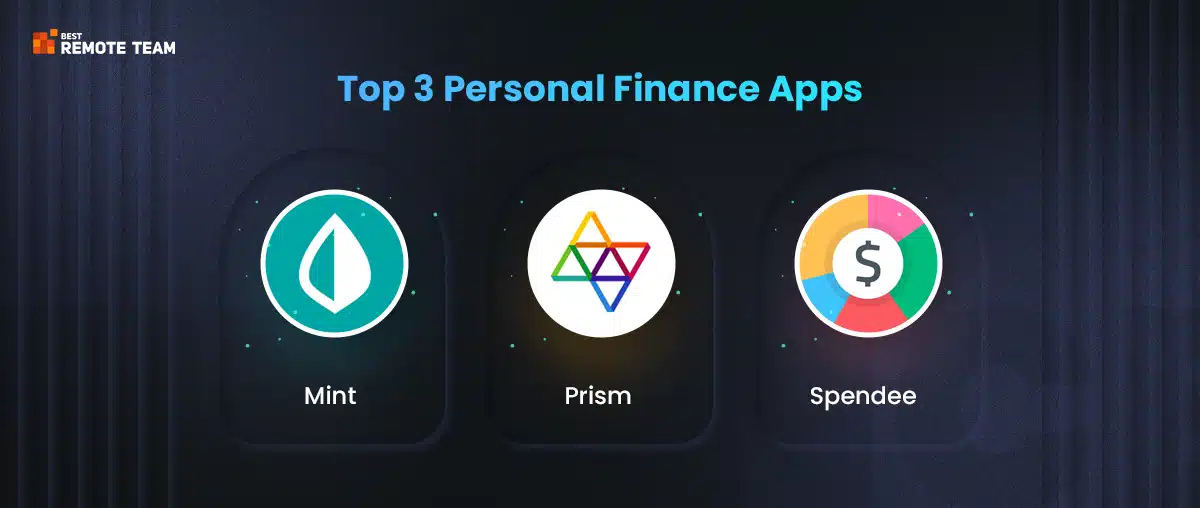 1. Mint
Mint is a fabulous and user-friendly budget planner app that allows users to sync their bank accounts and credit cards to the app. It has some excellent features to manage your finances. Some features are tracking your income and expenses, daily budget overview, budget targets, etc.
2. Prism
Prism is also a good budget planner app that allows you to connect with your bank accounts. Furthermore, users also can pay utility banks, insurance premiums, and other financial transactions.
3. Spendee
Spendee is a personal finance app that allows users to manage all shared expenses. Users can see all transactions in one place and organize their spending.
Top Factors to Consider While Developing a Personal Finance App
1. Legal Compliance
You have to comply with all the rules and regulations designed by the authorities. Developing a personal finance app requires you to adhere to all the local, state, and national laws. Not just that, you also have to update your app regularly to comply with all the updated rules and regulations.
2. Security
Another factor is security. You must ensure your app has all the security measures to protect against cyber-attacks. Personal finance details are very sensitive, and users hesitate to share them with others. Data confidentiality is a top concern to think about.
3. User Experience
Developing a mobile is straightforward. However, creating a mobile app that offers a seamless experience takes time and effort. Ensure that the app has the best, most user-friendly, and easy-to-navigate user interface that helps customers to use the app excellently. There are so many personal finance apps available on the Apple App Store you need to come up with something different and promising to woo and engage your audience. Offering the best user experience will turn them into your customers.
4. Monetization Strategies
Before developing an app, think of monetizing your app. How would you generate revenues from the app? Will you go for in-app purchases or invite third-party advertisers to display their advertisements? Will you start a subscription plan or offer the freemium model? Answering these questions is crucial to develop a monetization model for your app.
7-Steps Guide to Building a Personal Finance App
If you want to build an iOS app for finance management, here are the following steps. Discuss in length with your developer team about the mobile app development strategy and how they plan to proceed.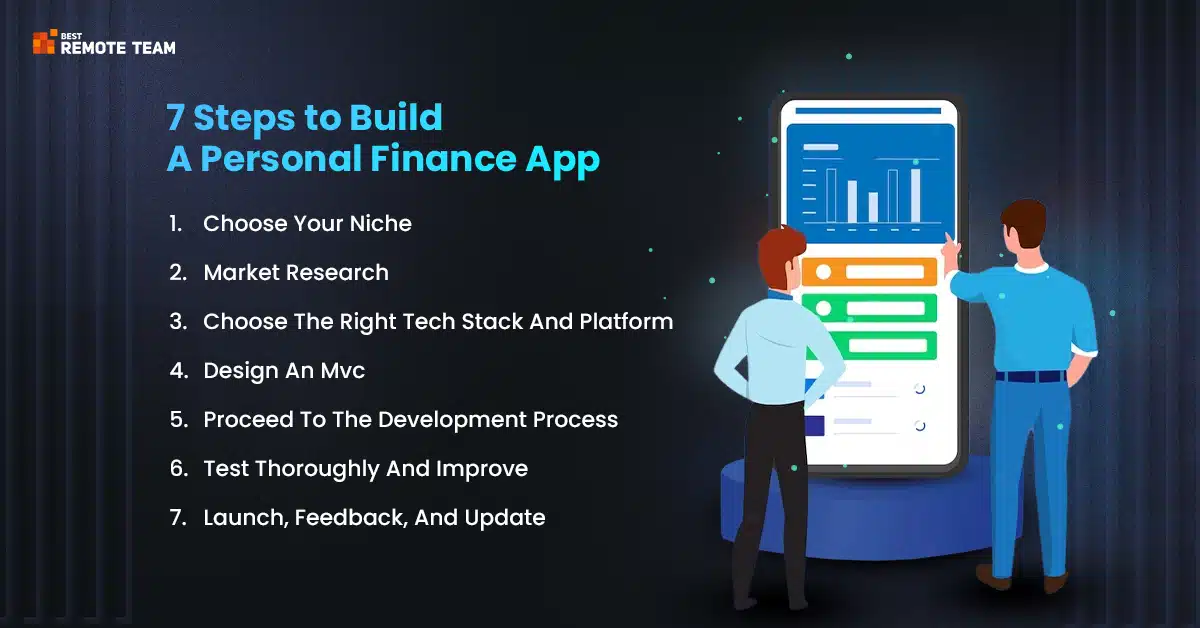 Step 1: Choose Your Niche
The first thing is to determine your niche. Which gap do you want to fill in? Your priority should be exploring the right idea for a specific niche. Consider various factors such as scalability, your target audience, competitors, and future goals while determining your niche.
Step 2: Market Research
Once you have decided on the niche, the next part is research. Who is your target audience? What are their likes and dislikes? Who are your main competitors? What are the features they offer in their apps? Answering these questions will give you many valuable insights.
Step 3: Choose the Right Tech Stack and Platform
Choose the right tech stack for development based on your project scope, languages, and other requirements. Not just that, check out what types of tools and platforms you will use for your personal finance app development. Also, at this stage, you must determine whether to establish an in-house team or outsource the project to an iPhone application-making team.
Step 4: Design an MVC
The next step is to design an MVC. It will help you check the feasibility of your idea. Furthermore, you will get some valuable suggestions and feedback from end-users that can help develop a powerful personal finance app for iOS.
Step 5: Proceed to the Development Process
The developer team will determine the features and functionalities of the app at this stage. The development team will develop the proper methodology based on scalability, debugging capabilities, and security. Also, they will create a product specification model and technical specifications.
Step 6: Test thoroughly and Improve
Users will detect the app with errors or bugs. The best way to avoid such a situation is to test the app simultaneously. It will give your users a flawless experience and improve brand visibility. There are various types of testing tools that you can use to test your app thoroughly.
Step 7: Launch, Feedback, and Update
Once the app is developed, the last part is to deploy the app on Apple App Store. Ensure that the app follows all the regulations of the app store. Once deployed, use app store optimization techniques to rank your app on the app store results. The last part is to update and maintain the app regularly to offer a great user experience to your customers.
Top 9 Features for a Personal Finance App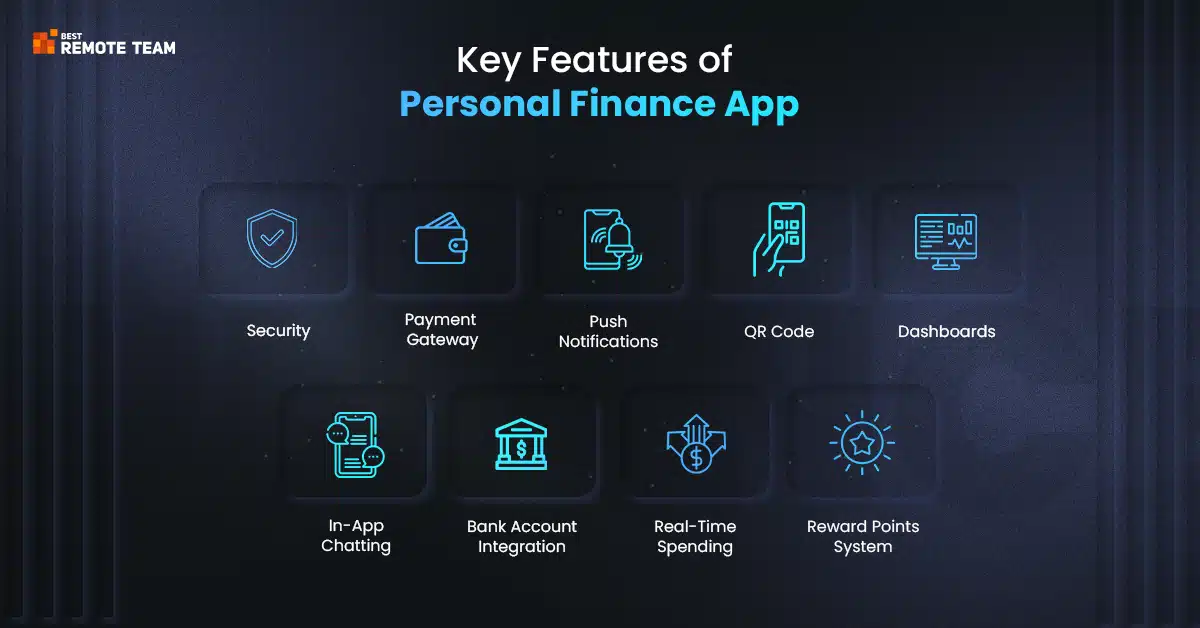 1. Security
A personal finance app asks for sensitive data from users. You have to secure this data and take all security measures. From two-level authentication to data encryption to biometric access, take all the necessary steps to ensure data security.
2. Payment Gateway Integration
Users should be able to pay through the app. You can integrate third-party payment gateways into the app to offer convenient and comfortable online transactions. Also, offering multiple payment options would improve user engagement.
3. Push Notifications
Push notifications alert users about important news, updates, and offers. You can send reminders to users about their financial reports, portfolio updates, and other crucial information. Make sure that too many notifications might disturb your users. Use this feature wisely.
4. QR Code Scanning
QR codes help users to make payments through various digital platforms. The app should be able to generate a personal QR code for users. Also, they should be able to scan QR codes to make payments online.
5. Dashboards
You can design a personal dashboard for users with all crucial financial information of the user, such as bank account details, insurance, utility bill payments, investments, mutual fund, and other portfolios. This dashboard will give a holistic view of their financial details.
6. In-app Chatting
Users can chat with other users or customer support executives within the app for seamless communication.
7. Bank Account Integration
Users should be able to integrate their bank account details to integrate their account with the app.
8. Real-Time Spending
Users can check their spending in real-time to analyze their spending habits. For example, when you swipe your credit card anywhere, you should get a message from the app about deducting the amount from your credit card. Such spending alerts help you control your unnecessary spending.
9. Reward Points System
People use things when they get something in return. It is human nature. Introducing a reward points system can engage users like no other. They will use the app more often with such a system in place. For example, the app might give a reward voucher every time you make an online transaction. Users can now use these vouchers to buy products or services.

Conclusion
Developing the best finance app for iOS can be a profitable decision for you. Ensure you comply with all the regulations and develop a feature-rich application.
Also, ensure you hire the best app development company with a proven track record in the domain to get the best solutions. Keep the user interface clean, uncluttered, and concise to attract users. Define your niche and stick to it while developing the app. Keep these things in mind while developing an iOS personal finance app.