What is a Splitwise App?
Splitwise is a one-of-its-kind bill-splitting app that can help users share expenses or rent with their friends or colleagues.
Whether living with your colleagues or traveling with your friends, you can keep track of all the expenses and then split the bills between friends accurately.
Splitwise is a cloud-based mobile app accessible on Android and iOS platforms. You only need to download it from the Play Stores to use it. Multiple users can log in to view bills and split them between group members.
It also has an online payment system to pay bills online to any group members. It is a brilliant app that perfectly tracks shared expenses and shows who owes whom.
As per the report by Business Research Insights, the market will cross $993.02 million by 2031. The same report shows a compound annual growth rate of 7%.
What Are the Benefits of Developing a Splitwise-like App?
There are many benefits of developing a Splitwise-like bill-splitting app. Let's discuss some:
This app allows users to split their bills with friends and colleagues easily.
The app helps to maintain a transparent bill-splitting system.
They can pay each other online within the app.
Businesses can monetize the app in various ways, like subscription-based fees, in-app purchases, advertising, etc.
It allows you to pay with different cards and payment options.
Most bill-splitting apps work offline as well.
A group of friends can handle and split multi-vendor bills accurately.
How Does the App Work?
You must understand how it works before creating a bill-splitting app like Splitwise. The process and workflow are very straightforward. The main aim here is to split the bills accurately and without any hurdles.
Once a user splits the bill, everyone in the group knows about it through notifications. Everyone in the group knows who has paid the bills and who hasn't.
Let's check out how it turns out for each stakeholder.
#1) For Corporates
For example, a company decides to take its employees on a tour where everyone has to contribute a certain amount. You can hire a mobile app development company to develop an app that can help in splitting multiple bills.
Employees can know who has already paid the bills and who hasn't. Also, they can pay the amount within the app.
#2) For Roommates
Roommates can calculate and divide their rents and other expenditures within the app and pay online through the app.
#3) For Friends
You can pay and split the bill with your friends within the app. They will pay their amounts within the app.

How Does an App like Splitwise Make Money?
There are various ways an app like Splitwise can make money. Let's check out
#1) Advertisements
The app can allow online advertisers to keep the app free for users. Even the Splitwise app follows the advertisement model, which is quite successful. This is the highest mode of revenue for mobile apps, as per various reports.
#2) Membership Plan
It is another technique to monetize your app. Here, you can ask a user to buy a membership to use the app's advanced features. Users can purchase a membership and enjoy the app without any ads.
Splitwise also uses this monetization technique. Splitwise Pro is another membership plan for users.
#3) Transaction Fees
Also, a bill-splitting app can charge a certain amount per transaction from online merchants like PayPal.
Case Studies of Payment Apps
Now, let's discuss some alternatives to Splitwise to explain how these bill-splitting apps work.

#1) Tricount
Tricount is another bill-splitting app that allows groups to split the bills. It has a user-friendly and impressive interface and is also easy to navigate. Also, users can use certain features like a split-bill calculator when they are offline.
This app is exclusively made for groups. Here, a member can add other members to the group. Also, every time a new expense occurs, everyone in the group gets notifications about it.
#2) Venmo
Venmo is another sophisticated alternative to Splitwise and has been doing well since its inception. You can eliminate the need to split bills manually with this app. The app is available for Android and iOS platforms.
Here, users can easily send money to people and also send payment requests to them.
#3) Lovely
Lovely is an app specifically made to pay rent without any hassles. You don't have to pay rent every month, as you can set recurring payments after adding details about the landlord.
Apart from that, you can also split bills with your roommates. You will receive a notification five days earlier to make a payment. Once the landlord gets the money, you will be notified as well.
#4) Square Cash
It is another well-designed split bill app that has been popular nowadays. You can enter your card details into the app and send payment through them. Also, you can protect your account with a password or a Touch ID.
If you want to cash out your payment to your bank, the app will do it while charging 1% as a fee.
#5) SpotMe
SpotMe allows users to split bills or customize the amounts with their friends. Also, a user can see the balances of their friends as well. You can quickly settle the balances within the group with a single click.
Top 12 Features to be Added to a Splitwise App
Before you start developing a mobile payment app like Splitwise, it is important to determine the features you want to incorporate into the app. We have listed some features below. If you have any specific features, you can add them too.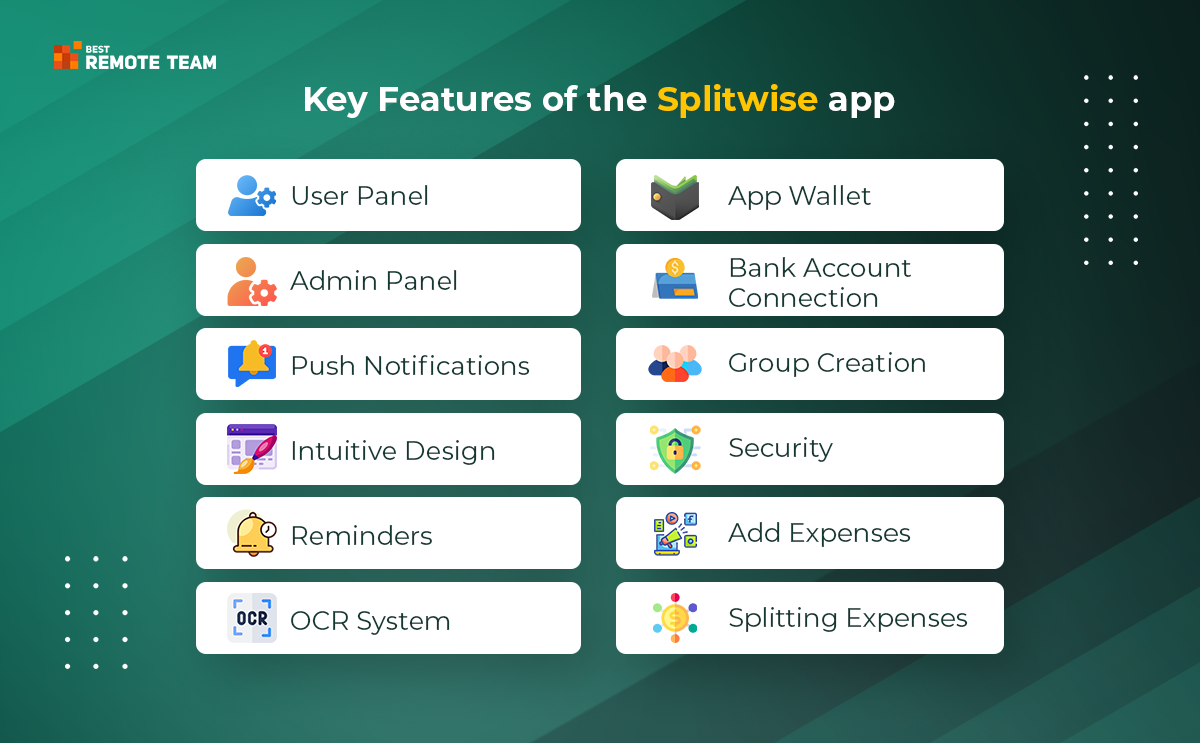 #1) User Panel
Once installed on their phones, users can easily log in and create their accounts. The procedure should be simple, quick, and streamlined to engage users. Ensure to allow users social media credentials to log in to the app.
#2) Admin Panel
An admin panel must be robust to allow the admin to log in and manage various activities like payments, services, products, discounts, etc.
#3) Push Notifications
Push notifications allow the app to send notifications to users about important news, information, updates, and other things.
#4) Immersive and Intuitive Design
The app's design should be highly immersive and impressive to woo users. Ensure the design layouts, colors, themes, and other aspects are simple, clean, and uncluttered.
#5) Reminders
Users must be able to set reminders about important dates, payments, etc. Also, they should be able to send reminders to their friends about upcoming payment dates.
#6) OCR System
An OCR system allows the app to read bills automatically. It will help the users' time as they don't have to add each item manually.
#7) App Wallet
An app wallet allows users to keep some money in the wallet and pay directly from it. They don't have to pay through their bank account as it will take time every time they do.
#8) Bank Account Connection
Users should be able to connect their bank accounts with the app seamlessly. Users can quickly pay online through their bank accounts.
#9) Group Creation
This is the essential feature any bill-splitting app must have. With this feature, users can create multiple groups to split bills.
#10) Security
As such apps are mobile payment apps, you must consider security first. You need heightened security measures to keep the app safe from data thefts and security breaches.
#11) Add Expenses
This feature allows users to add expenses to the app. Also, users can see their income and expenses for a specific date.
#12) Splitting Expenses
It is one of the most crucial features to add to the bill-splitting app. Users can easily split bills between group members as per the method selected by the member.
Tech Stack to Build an app like Splitwise
Now, let's discuss what technologies and frameworks will be used to make a Splitwise-like app. If you have hired a mobile app development company, you don't need to worry about it. However, it must be discussed to get some ideas.
#1) For Android App Development
You will need programmers who are good at languages like Laravel, Java, Kotlin, and PHP.
You will also need databases like MySQL, Firebase, and SQLite.
Also, you will need to use libraries like Google Maps SDK, Google Push Notification, etc.
#2) For iOS App Development
You will need programmers who are well-versed in programming languages like Objective-C and Swift.
Also, you will need databases like MySQL, Firebase, and SQLite.
You must use libraries like Google Maps SDK, Google Push Notifications, Swiping cards, etc.
The Process of Developing an App Like Splitwise
Here is the app development process to build a Splitwise-like app.
#1) Research
The app development team will discuss in length with the client about features, functionalities, and other app-specific aspects. Then, the app development team will conduct in-depth research about the market, competitors, target audience, etc.
#2) MVP Development
Though developing an MVP is not a compulsory practice, experts recommend it. By developing a minimum viable product, you can develop some app features and get real-time feedback from users. It will help create a development roadmap for the product.
#3) UI/UX Design
App designers will create an immersive and uncluttered app design and consider all the design aspects, like colors, themes, navigation, menu, etc.
#4) Custom App Development
Here, developers will start working on the app's front and back end, keeping design in mind. The app's features and functionalities will be developed in this stage.
#5) Testing
Quality analysts will start testing each feature, functionality, and uniformity within the app to ensure consistency. In case of any bugs, errors, or functional issues, developers will work again to fix them.
#6) Deployment
Once the app is tested thoroughly, it will go to the deployment phase. App developers will deploy the app on respective platforms on iOS and Android.
#7) Maintenance
Regular updates are very crucial. Developers will release new versions of the app with additional features and functionalities.
What are the Factors that Affect the Cost of Building a Splitwise App?
Before developing a bill-splitting app, you want to know the cost. Well, estimating the cost of a Splitwise app is difficult as it depends on many factors. We will discuss these factors one by one.
On average, a bill-splitting app costs around $15,000 to $25,000. If you want to add advanced features, the cost might go up to $35,000.
#1) Experience of Developers
The developers of the mobile app development company you have hired play a significant role in determining the cost. For example, experienced developers will charge you more if you choose a dedicated hiring model.
#2) Geolocation of Developers
The location of the developers also plays a crucial role in determining the cost. For example, Indian or Ukrainian developers will charge less than American developers.
#3) App Security Costs
If you decide to add extra security features to the app, like two-way authentication or encryption, it might cost you more.
#4) Features and Functionalities
Basic features are fine. However, advanced features and functionalities might cost you more.
#5) UI/UX Design
The complexity of the design will determine the cost. Ensure that the design of a user interface is simple, uncluttered, and highly immersive.
#6) Devices and Platforms
If you wish to target Android and iOS, you can go for native or cross-platform app development. Native app development will cost you more compared to cross-platform app development.
#7) Maintenance and Marketing Costs
You also need to keep in mind maintenance and marketing costs while estimating the total cost of the app.
Generally, marketing costs can disturb your total budget many times. Maintenance of the app is also costly. Keep these costs in mind.
Why Choose Best Remote Team to Develop an App Like Splitwise?
Best Remote Team is a leading mobile app development company with a proven track record. You can expect the utmost professionalism and transparency with the team of developers.
They are equipped with a team of the right developers and will go the extra mile to help you with what you desire.
Conclusion
Bill-splitting apps are very popular and have a wider audience. You can have a mobile payment app with bill-splitting features to capture this audience.
With additional features and functionalities, you can develop an app that perfectly bridges the demand gap. Generally, the app would cost you up to $15,000 to $35,000 with advanced features and functionalities.
We have discussed features, case studies, and factors that influence the cost of the Splitwise-like app in this blog. Hire a mobile app development company like Best Remote Team to get started.