Overview of WordPress
Let's begin our CMS journey by understanding WordPress. It is synonymous with blogging, and several people are aware of this platform.
WordPress is a PHP-based CMS platform that is used to ease the task of creating, managing, and deploying websites. As it is open-source and free to use, startups can play around with the CMS and build incredible solutions.
With a basic understanding of HTML and CSS, you can customize the solution and meet your unique needs. You can also build a more traditional website with forms and mailing lists using this platform. The drag-n-drop editor can easily help you organize the page and create custom solutions.
The Key Features
Here are all the key features that make WordPress the most powerful support for your website needs.
There are several in-built themes that you can use to build websites and blogs for your niche.
It offers one-click installation and upgrades to help enhance the developer's experience.
You can introduce role-based access to help handle several roles and responsibilities simultaneously.
You can extend comments to your website using the in-built feature thus allowing interactions through the website.
You get in-built SEO features that allow you to optimize the website and improve the site's visibility.
Benefits of Using WordPress
As it is a user-friendly platform, even beginners can use it to build a full-fledged website.
Using the in-built themes, you can build extensive sites for your needs.
There are inherent plugins that allow you to extend the site's functionality.
It is free, which means startups can get started with low investment.
The updates are easy and user-friendly.
Read More:- How to Hire the Best WordPress Developers in India?
Overview of Drupal
Now that we have seen WordPress and how it helps startups, let's understand a bit about Drupal platform.
Drupal is an open-source and free PHP-based content management system. It comes with a range of tools, and the ideal structure that enables a structured website development. You can use the in-built navigation menus, content pages, and lists to direct your website development.
It offers a wide range of functionality to help you deliver an extensive website. The easy-to-use drag-n-drop editor makes things easier for the beginner.
The best part about this platform is that you can build complex workflows and create large-scale websites. While corporates and large-scale enterprises prefer this platform, it can support a startup's vision as well. That's why a lot of developers consider Drupal the best CMS for new businesses.
Key Features of Drupal
There are several in-built modules and themes that allow you to build extensive mobile experiences.
It offers multi-lingual support thus allowing you to build websites for different geographies.
It can be configured with any platform, as it is platform-agnostic in nature.
It provides an excellent taxonomy that helps you build thorough hierarchies throughout the website.
It is not too dependent on third-party modules to extend the site's functionality.
The Advantages of Drupal
It is an open-source framework, which means you can build creative websites at a low cost.
It has excellent community support that allows you to gain help when needed.
It is a future-proof solution, which allows startups to scale to meet unique requirements.
It can handle the code efficiently, thus making it easier for developers to test and debug the code.
We have now seen the two individually and understood how they help startups. Let's compare the two and understand which one fits when.
Evaluating the Platforms against Key Factors to Consider When Choosing a Development Platform
We will be evaluating the two platforms against the key elements that developers rate while selecting the technology stack.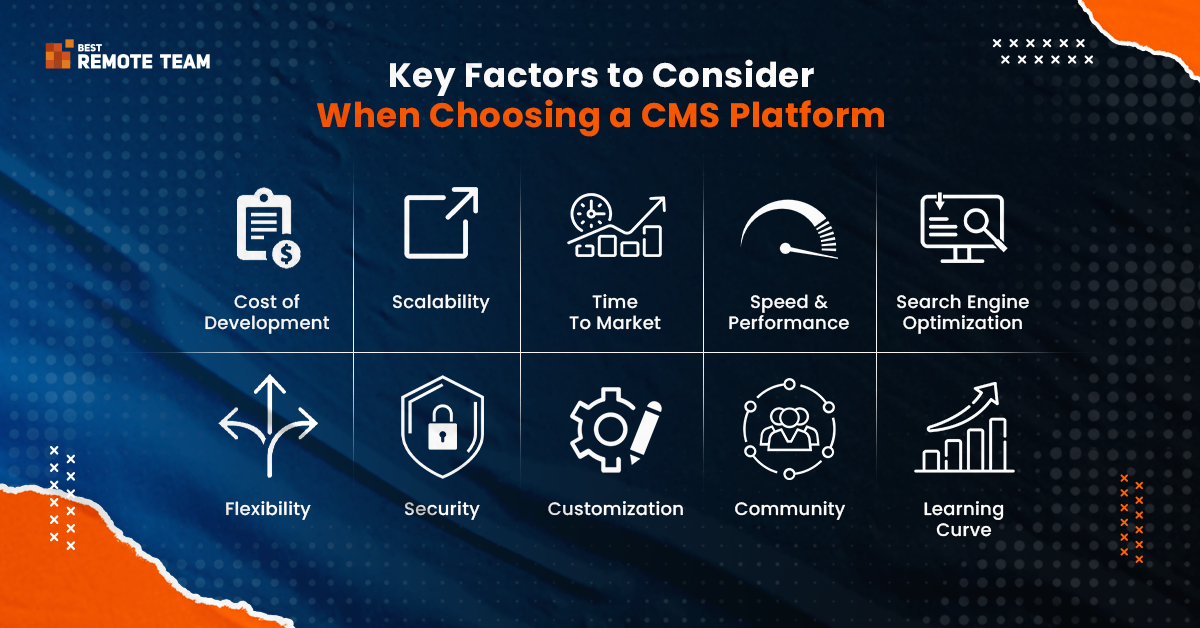 1. Cost of Development
WordPress: Anyone with basic HTML and CSS knowledge can develop a WordPress website. Even non-developers can create a solution using this platform. Moreover, there are a range of free themes, which means you don't need a premium one to build your site.
Drupal: When you build a website using Drupal, you need skilled developers and senior resources to help with the solution. You might also need to invest in premium themes to get started.
Which to Choose: If you want a low-cost platform, WordPress is your choice. You don't need to invest in themes or resources to get started.
2. Scalability
WordPress: While it is scalable, the upgrades to the platform are not too fast. It may not be a completely futuristic platform.
Drupal: Drupal was created to be a futuristic platform. It is created with the aim to enhance site features, build a more scalable website and deliver future features easily.
Which to Choose: If you want a more scalable and growing site, you must choose Drupal for development.
3. Time-to-market
WordPress: WordPress offers one-click installation, faster theme selection, and instant website development. As a result, you can accelerate your time-to-market websites.
Drupal: It takes a while to install and upgrade the Drupal platform. At the same time, you might invest some time in building complex workflows. This will add to your launch time.
Which to Choose: If you want to release your site into the market early, you must go with WordPress.
4. Speed and Performance
WordPress: When you are working with WordPress, this could act as a disadvantage. It cannot produce fast-loading websites. If you want to build high-performing websites, you must be aware of methods to optimize the webmaster. At the same time ensure to implement the best practices.
Drupal: When you are working with Drupal, you may develop fast-loading and high-performing websites. As it isn't resource intensive, your website doesn't engage in delays.
Which to Choose: Drupal should be your go-to platform if you want to encourage high-speed and performing websites.
5. Search Engine Optimization
WordPress: The in-built SEO allows you to optimize your website with the right descriptions and meta. At the same time, you might note that you have a lot of plugins to incorporate advanced SEO features.
Drupal: Drupal offers extensive SEO features that allow you to build capable and optimized sites. However, you will need the community and developer's support to implement SEO best practices.
Which to Choose: If you want to implement optimization strategies with greater ease, you must choose to go with WordPress.
6. Flexibility
WordPress: Whether you want to convert your site into headless or customize the source code, it is easier with WordPress.
Drupal: You might need support from developers to introduce customizations or add features to the website.
Which to Choose: WordPress is more flexible and dynamic with limited complications. As a result, it must be chosen for flexibility.
7. Security
WordPress: As a platform, WordPress offers excellent security to developers. However, you will use third-party plugins and resources to extend the functionality. This can add vulnerabilities to the website.
Drupal: It is one of the most secure PHP CMS platforms. The platform has constantly upgraded to build the most secure features for development.
Which to Choose: If you want to develop a website with a lot of secure data, you must go with Drupal.
8. Customization
WordPress: You have numerous plugins, themes, and extensions that are easy to drag-n-install into the WordPress site. As a result, even beginners can easily customize the sites.
Drupal: You will need to work with extensions and modules to customize your website with Drupal. This would require an expert's intervention.
Which to Choose: If you want to customize your website at a low cost with in-house resources, go with WordPress. If you want to extend the functionality and have senior resources, Drupal is a good option.
9. Community
WordPress: Several blogs and websites have been built using WordPress. As a result, it enjoys excellent community support.
Drupal: It has a smaller community and ecosystem as there are fewer people who work with Drupal.
Which to Choose: If you want thriving community support, you must choose WordPress.
10. Learning Curve
WordPress: It extends one-click installation. You can easily build templates, themes and plugins to build a fully-functional website. You don't need coding knowledge to master the themes.
Drupal: It is easy to install and use the website. However, you might face difficulty mastering the platform and engaging in building a solution.
Which to Choose: WordPress enjoys a low learning curve and can be used by beginners to build websites for startups.
Head-to-Head Comparison: WordPress vs. Drupal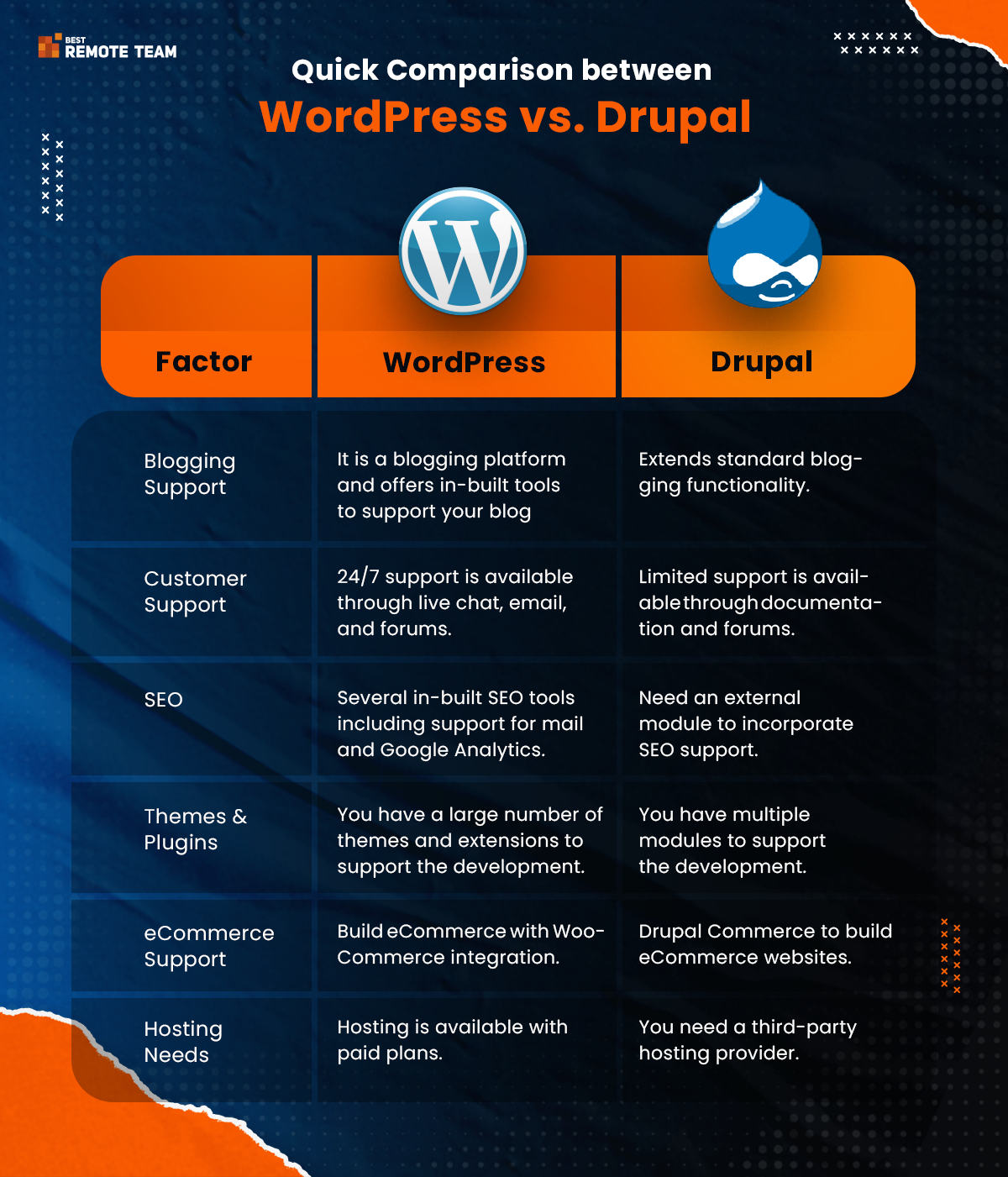 Final Verdict: Which CMS is the Right Choice for Your Startup?
In the face-off between Drupal and WordPress, there is no clear winner. It entirely depends on your business requirements and the website you want to develop.
If security and a highly functional website is your goal, you must opt for Drupal. However, if you want to get started and release the website before the competition, you can opt for WordPress.
Similarly, if you want to build a complex and large-scale website, Drupal is your best support.
However, if you need a low-cost and highly usable website, WordPress should be your platform.

Conclusion
We looked at the popular CMS platforms, WordPress and Drupal, and evaluated them against top factors- performance, speed, cost, and customizations. While there was no clear winner, you will notice that you might need one over the other during specific requirements.
It is important to hire Drupal developers to ensure secure and high-performing website development. Best Remote Team offers flexible hiring models to help you plan your resources and manage website development. Connect with our team for the best hiring solutions.