Why Build an eCommerce Android app?
Android is the most significant operating system, with a market share of 70.89%. If you want to create an ecommerce Android app, going for an Android market app is naturally logical.
Not just that, Android apps offer a seamless user experience and can be customized as per your business requirements. Also, Android apps are faster and more versatile, offering endless possibilities to businesses to monetize their apps.
Developing an Android app does not hurt your pocket much compared to Apple. Developing and deploying an Android app is faster, effortless, and offers high ROI.
Moreover, Android enjoys more flexibility and scalability after the introduction of Android Studio.
How Can the eCommerce App Benefit Your Business?
Ecommerce mobile apps can offer a wide range of benefits. Apart from conversions and revenues, it also gives you an opportunity to earn loyalty from your customers. Some benefits of developing an ecommerce app are discussed below:
1. You Can Improve Your Customer Targeting Capability
With a tailored ecommerce app, you can expand your horizons and target customers from unexplored locations.
With better data analytics and insights, you can develop highly personalized offers to cater to their expectations and woo them with your products.
2. Make First-Time Buyers Your Loyal Customers
If you have developed an unparalleled app with high-end features and a user-friendly interface, your first-time buyers will surely love the experience. You can turn first-time buyers into loyal customers with push notifications and great offers. With vital data insights about their behavioral patterns and purchase history, you can make customized offers and increase sales and revenues.
3. Headache-Free Online Shopping Experience
What do you expect when you buy something online? You want a streamlined and satisfactory experience while buying things online. An ecommerce Android app can offer the exact. From searching for the right products to quick checkout, an ecommerce app makes the whole shopping journey convenient and comfortable.
4. Easy Communication with Customers
The new millennials don't just want good products and services, they look for good experiences. Reaching out to them with help can create a feeling of gratitude. An ecommerce app with an in-app chat feature can help guide your customers throughout the journey. Your customers will also reciprocate with loyalty.
5. Valuable Data Insights
Thanks to advanced data analytics tools, you can learn more about your customers and their buying and behavioural patterns. With such robust data, you can develop highly personalized offers to woo your customers.
You will need an ecommerce app that reveals all the details you seek. Furthermore, you can also optimize your app as per the feedback and data received from the customers.
6. They Can Access the App from Anywhere
The best thing about mobile apps is that you can access them anywhere. Whether traveling or sitting in your office, just turn on the phone and tap the app icon. Convenience is the key in today's customer-centric era. When you offer them convenience, they will stay with you for a long time.
7. Gives You a Competitive Edge
Developing a mobile app will give you a competitive edge over your rivals. Customers would also appreciate this adaptability. It will put you ahead in the competition.
04 Essential Focus Areas for eCommerce App Development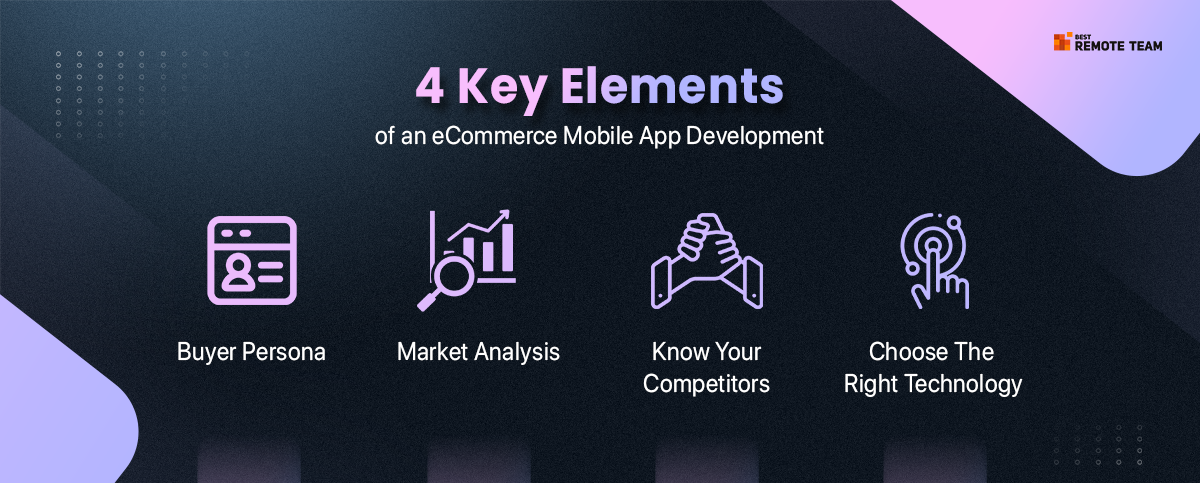 1. Buyer Persona
Whom do you want to target? What is your target audience? You just cannot randomly target everyone. You need to have a clear idea about targeting a specific niche of people with various parameters such as age, race, gender, location, etc.
For example, if you sell baby diapers, your niche audience is new parents aged 25-35. Similarly, you need to define your audience to put all the efforts in that direction.
You also need to know their likes, dislikes, interests, buying, and behavioral patterns. It will help you to target them in a meaningful and streamlined manner. It will also help you to add the right features to the app.
2. Market Analysis
You also need to analyze the market you are about to enter. Check out the market, demands, needs, and wants to deliver products or services to your audience better. Gather as much information as possible to learn market behavior, gaps, and other crucial insights.
3. Know Your Competitors
Do you know your competitors? It can help you develop the right market strategy for your app. Analyze your competitors thoroughly to find the niche gap in which your products and services can fit.
Find out why your audience loves your competitor. What are the features that make their app extraordinary? What business model do they follow? All these questions can help you design your app to get a competitive edge.
4. Choose the Right Technology
Another key consideration is to choose the right technology for your e-commerce app. As you have determined to develop an Android app, hire the best Android app developers who can help you choose the right tech stack for the app. Ask them to choose the right framework, CMS, databases, and front-end and back-end languages.
Your budget also plays a crucial role in deciding the technology stack. Discuss with the developers and then decide.
The Budget for Your Mobile Commerce App
Another significant thing is the budget of the app. Now, you have two choices here.
If you are a startup with budget constraints, use a hybrid ecommerce Android app. It will help you to target Android and iOS users without spending a fortune. Most startups and enterprises go this way to promote their brand in the initial stages.
If you don't have any budget issues, you can go for native app development. Native apps offer the best-in-class performance and give a seamless user experience. However, it will take time to build an app as you have to develop it from scratch.
The Look and Feel of Your Mobile Application
People love an elegant, simple, and yet attractive mobile app. This is the reason why an app's user interface is so crucial to make the app a success.
Hire ecommerce app developers who have highly innovative ideas. Come up with highly impressive design layouts, roadmaps, and the right color combination for your app.
One thing to avoid is copying your competitors' apps. It is not just unethical, but will also put your brand in bad taste. Come up with an original app with a unique feel and look that perfectly represents your brand.
The List of Must-have Features
What are the features you want to add to your ecommerce mobile app?
Make a list of all possible features an app should have. Now, ask the team of Android app developers to remove unnecessary features that might just increase the size of the app.
Add features that make the user's journey comfortable, convenient, and smooth. Adding too many features might clutter your app's user interface. Don't make it happen as it will not get you engagement and acceptability.
Some of the features that you must add to your ecommerce mobile app are:
Product List and categorization
Search Bar and Filters
Push Notifications
Multiple Payment Options
Wishlist
Look-books
Easy Checkout
Social Media Integration
Review and Ratings
Business Intelligence Tool
Synchronization across apps and websites
The Development Process
Once you have completed the research part and decided all the features you want to develop, you can start building an app.
Here is a list of things to remember while developing an app:
Don't make the app cluttered. It will not bring more engagement. Keep it simple, clean, and uncluttered.
An app should be easy to navigate. Users should be able to find things they are looking for easily.
Follow the agile ecommerce app development methodology to speed up and streamline the app development process.
Add an in-built live chat support feature to help confused users.
Use high-resolution images to make the app visually enthralling and stunning.
Contrast color combinations might ruin the app's look. Try avoiding it.
13 Most Important Features for E-commerce Android Apps
Adding essential features to the app will help users to enjoy their app journey. It will also improve engagement and conversions. Some of the most essential features are discussed here.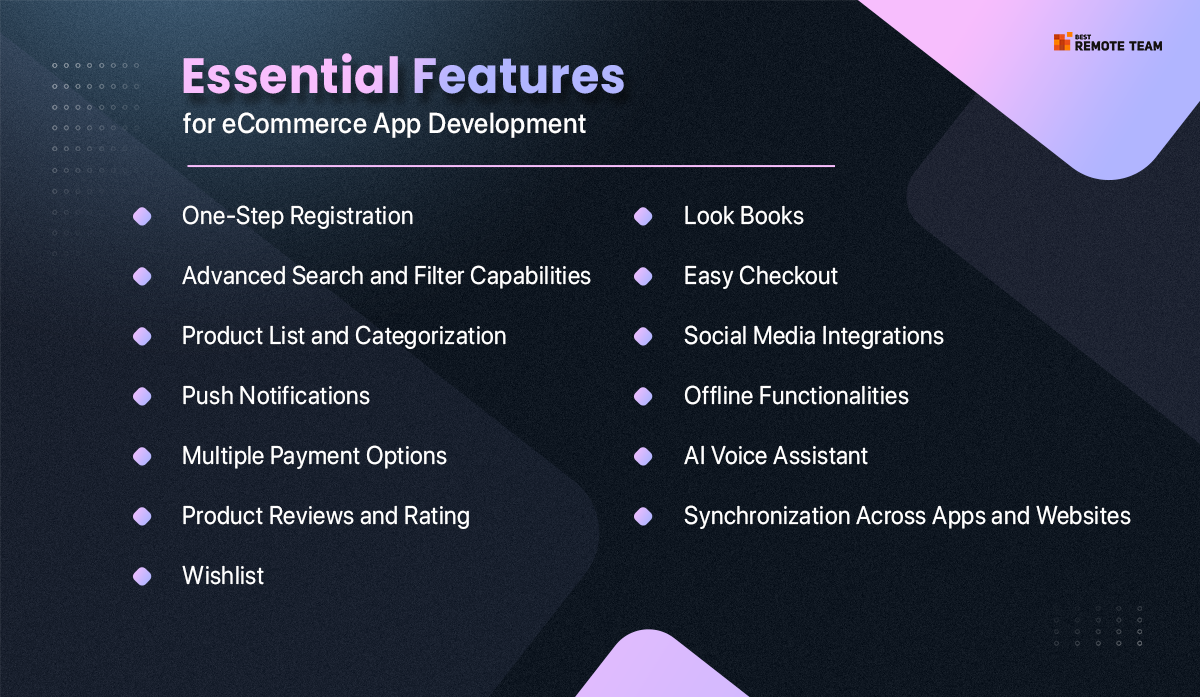 1. One-Step Registration
Users would not like to fill out lengthy forms. The signup or registration process must be simple and quick. One-step registration via email or a phone number is always good.
Some apps also allow users to sign up with their existing Google or Facebook accounts to simplify the process further. Make the app registration process headache-free. Give clear instructions to the ecommerce app development company you have hired.
2. Advanced Search and Filter Capabilities
If you are selling hundreds of products, ensure to add powerful advanced search and filter features. Users should be able to bifurcate the search process with the right filters.
Make sure that the users don't have to put more effort to find what they are looking for. Sorting and filtering options help users to quickly find what they are looking for.
3. Product List and Categorization
E-commerce apps like Amazon and eBay have clear lists of products with the proper categorizations. It helps users to browse products category-wise.
It will make the user's journey more productive and time-saving as they will only click on the category of their interests.
4. Push Notifications
Push notifications help businesses to send important news and information to users on their smartphones. Information such as personalized offers, holiday offers, discounts, news, and other things.
5. Multiple Payment Options
Users should be able to pay within the app. Not just that, they should have multiple payment options to pay for the products and services. Ask the ecommerce app development company to use third-party payment APIs, if needed. Some options are credit cards, debit cards, online wallets, PayPal (for international users), and others.
6. Product Reviews and Rating
Users love to write their experiences. Let the app help them write what they feel about products and services. Users should be able to rate and review within the app on a product page itself. The review section should also accommodate images and videos for reviews.
7. Wishlist
Users should be able to add desired items in their Wishlist. Users also should be able to redirect from the Wishlist to the checkout page.
8. Look Books
If you are selling fashion-related products, adding lookbooks can help users to choose the right products. A lookbook is a selection of photographs of fashion products, stylists, models, and photographers to let users know the trending items in the industry.
9. Easy Checkout
Users abandon apps that take too much time in checkouts. Make the process simple and quick to earn high conversions.
10. Social Media Integrations
Social media integrations help users share products on various social media platforms such as Facebook, Instagram, Twitter, or Whatsapp. It helps to expand your reach as well.
11. Offline Functionalities
Make sure that users can access some of the features even when they are offline. It will surely boost their experience. If not check out, they should be able to browse products, add them to a wishlist, and do other simple things.
12. AI Voice Assistant
It is a new trend and giant ecommerce companies are already adopting it. Adding an AI voice assistant to help users with usage limitations. It can offer a superior user experience and help users navigate through the app with voice commands.
13. Synchronization Across Apps and Websites
If you have a website and multiple apps for operating systems, data synchronization is vital. It is a data synchronizing process between two or more devices, such as desktops, Android, iOS, and Windows, to update the changes automatically to maintain consistency and offer a seamless user experience to customers.

Conclusion
Developing an eCommerce Android app can help in many ways. It is the right time to enter into the industry and capture the market share. With a mobile app, you can offer a highly streamlined and engaging experience to your target audience.
Furthermore, you can enhance engagement and conversions with an ecommerce app. All you need is an ecommerce app development company with the right team of professionals who can build an app that caters to your needs and business expectations.