Outsourcing Trends in the App Development Industry
If planning to outsource your software development needs, you must be well-versed with the current trends. Here's a complete idea of the trends ruling the industry.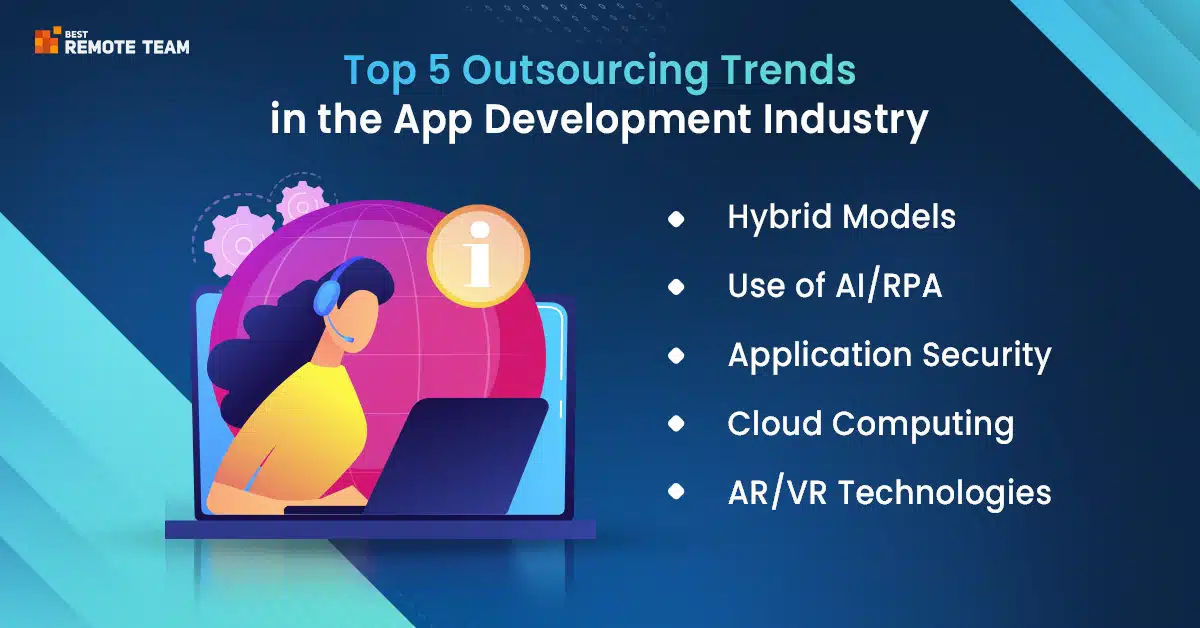 1. Hybrid Models: It can no longer be offshore-only or nearshore-only outsourcing. You must take a combined route to outsource your application needs. This way, you can leverage the nearshore outsourcing benefits like immediate collaboration, in-person meetings, and quick decision-making. At the same time, you can benefit from offshore benefits like cost-effective solutions and an extensive talent pool.
2. Use of AI/RPA: Automation is the key to operational efficiency and faster deliveries. It is important for businesses to incorporate AI and RPA to automate their operations and streamline their processes. Companies proficient in offshore development have the expertise in planning RPA or AI applications. They can cater to your growing automation needs with specialized algorithms and logical applications. It helps you create innovative products and implement solutions.
3. Application Security: One of the key trends that dominate the industry is security. It is important for offshore companies to adhere to the compliances stated by the industry. At the same time, they need to ensure minimal risks and maximum security. The companies are responsible for minimizing data vulnerabilities. Offshore companies are constantly working on enhancing the security abilities of their applications. They are working on implementing apt solutions and security protocols.
4. Cloud Computing: It is important for businesses to implement cloud solutions for easier collaboration. This trend is especially useful for offshore companies that cannot connect with the business in-person. This would help accelerate the app development and also streamline the solution.
5. AR/VR Technologies: By leveraging these technologies, you can also visualize the 3D models of your solutions. It can enhance prototype development and build a capable solution for your business. This is an extensively used medium to view the end application and make changes accordingly.
Factors to Consider When Outsourcing App Development to India
Before you outsource your application to a partner company, you must select the right one. Here are a few factors that you must consider for the right selection.

#1 Their Experience
This must not be counted in years alone. While they would have been in business for 7 years, the real question is how long they have developed mobile applications. This is where the experience holds.
You are looking for Android developers. They must have a solid experience in this niche for many years. Experience is also counted in the diverse types of apps, innovations, and complexities they have solved using their understanding.
#2 Proficiency of Developers
The technology stack and the proficiency of the developers are also critical when outsourcing app development.
It is important to know if they have developed Android apps in the past. Do they have expertise in building apps with Kotlin? Can they offer the requisite features in the application?
Additionally, can they cater to your unique design and development needs? Moreover, you must also check their understanding of the niche. Do they know the current trends driving the industry? Can they offer solutions that set you apart?
#3 Check the Portfolio
Before outsourcing to an app development company, you must study their experience. Look at their portfolio to determine their UI/UX development abilities. Check the type of Android apps they have created for the different industries.
Look at what makes them different from others. Also note the download rates, metrics, and other numbers that help you realize if they are the perfect partners for you.
#4 Communication Capabilities
How good are they at communicating their requirements? How prompt are they at responding to your queries?
These questions are important before outsourcing app development to an IT outsourcing company. Check their communication protocols and transparency. This would ensure you are in the loop and aware of the progress. It will also ensure minimal bottlenecks and risks while developing the solution.
Top 10 Android App Development Companies
Are you looking for partners to help you build capable mobile app solutions? We have identified the top 10 companies best suited for Android app development in India.
#1 Hyperlink InfoSystem
It is a leading Android app development company based out of India. With over 11+ years of experience and a team of 1000+ dedicated developers/designers, they offer experiential solutions. The company has delivered 4500+ apps with a download stat of 110 million.
The company offers extensive VR, game, and Blockchain development solutions, among other current technologies. They are renowned for client-centric solutions and an always-available support team. Apart from Android app development, the company offers iOS, Flutter, and React Native development solutions. They also offer web, eCommerce, and game development services.
They have worked in diverse industries, including healthcare, education, and retail. They have created app solutions for Papa Johns, Astral Pipes, and Tata Power, among other brands.
#2 Appinventive
As their tagline suggests, they are disrupting the app development industry as we know it. They offer excellent solutions that cater to shifting consumer mindsets. The team imagines every solution and crafts the roadmap for engaging outcomes.
To date, the company has delivered 1000+ app solutions. Their talent pool is equally skilled and accessible. They have the requisite technological expertise in AWS, SAP, Cloudera, and their USP.
They also offer Android development, AI development, Business Intelligence, and Blockchain solutions. The developers are proficient with Swift, Kotlin, Blockchain, and Python. They also have a huge tech stack that helps them create requirement-specific solutions. KFC, IKEA, and Adidas are some of their top clientele.
#3 ManekTech
They are a custom software development company offering development and consultancy services. With over 11+ years of experience in IT, they have been part of the evolving landscape. They have happily helped companies reimagine their solutions to meet newer and changing mindsets with their best abilities.
To date, the company has delivered 2500+ projects and has 500+ happy customers. Their ability to deliver projects on time has set them apart from the competition. They have been using an extensive tech stack to deliver the solutions their customers need. Their team is proficient with Kotlin, iOS, Ionic, and Flutter.
They can ably deliver native and cross-platform development solutions. ABB, GEA, and Nestle are among their top clients.
#4 Expert App Devs
This is your go-to place if you are looking for support with custom mobile app development. Their understanding of current technologies, ability to translate ideas into exceptional applications, and extensive support sets them apart.
They have been in the business since the inception of mobile app development and offer solutions that matter. With a team strength of 500+ developers and 600+ happy clients, they enjoy 90% repeat business. They have delivered over 1000+ mobile applications with a good download rate.
The company offers iOs app development, IoT development, AI development, and cross-platform development services, apart from Android development. Their portfolio is diverse as they have offered services across industries.
#5 RootQuotient
They are known as product innovators. They use innovation and uniqueness to drive the demand for the mobile application. With a team of creative designers and out-of-the-box thinkers, they can architect solutions that garner maximum demand.
Apart from mobile app development solutions, they also offer businesses staff augmentation and data analytics development solutions. They have covered over 75+ projects to date across 12+ industries.
Their success stories include Aligner4D and Messy FM. The developers are proficient with Android, Flutter, React Native, Swift, Kotlin, and Angular. They have an extensive tech stack and dedicated developers to handle crucial requirements.
#6 CSHARK
This is a leading company that offers digital solutions to enhance customer experiences. They translate the brilliant imagination of your team into capable applications that customers will love.
They provide extensive services including MVP development, product design, and web/mobile development.
They are proficient with a considerable tech stack, including .Net, Python, C#, Swift, and Kotlin. They are one of the fastest-growing companies, and Financial Times has taken note of that. They choose to honor the people over the processes, which makes them brilliant in their field. Their ability to offer extensive support and transparency makes them favorites among business owners.
#7 10Pearls
Whether you want to innovate the landscape or modernize the systems in your company, you can partner with 10Pearls. They have a dedicated development team, agility, and infrastructure to help produce the necessary solutions.
They have worked extensively in various industries to deliver suitable solutions. They offer software development, mobile development, user experience design, QA, modernization, and Data analytics services for businesses.
They are proficient with platforms like AWS, Google, Salesforce, and Microsoft, giving them an edge. High-growth businesses like PayPal, Intuit, K12, and National Geographic are part of their clientele.
#8 Devlight
Devlight helps small businesses and startups leverage mobile app development to further their growth and scale easily. They offer user-centric and flexible development solutions that maximize downloads. They have worked with companies like Vodafone, Visa, and Movinga.
They cater to numerous industries, including finance, healthcare, retail, logistics, and banking. Apart from Android app development, they also offer iOS app development, custom mobile development, digital product development, and UI/UX design. They also allow you to hire dedicated developers to build specific product solutions.
#9 Diceus
They are a custom software development company housing a proven app development process, development standards, and scope to deliver seamless solutions. With over 250 people working in their talent pool, they offer professional and quality solutions.
They also offer web development and data migration services. The company is renowned for offering platform-driven solutions for diverse industries. their main focus industries include insurance, banking, finance, healthcare, and retail.
#10 Sloboda-studio
They are one of the leading outsourcing app development companies that offer full-cycle app development. They support startups and SMBs in their goals and objectives. Apart from Android app development services, the company offers custom mobile and web development solutions.
They house expertise in real estate, marketplaces, and AI industries. They have dedicated teams for startup software development. Apart from full-cycle development, they also offer frontend/backend solutions. They also offer QA services to specific companies.

Conclusion
Outsourcing Android app development can save a lot of your time and operational efficiency. You can enhance the capabilities of the solution, and be more user-centric.
With the right partner, you can deliver experiential solutions for your target market. however, choosing the right partner is the most crucial part of outsourcing. By looking at their expertise and experience, you will know if they can fulfill your requirements. ensure your partner keeps up with the latest outsourcing trends to foster innovation and excellence.
Best Remote Team can help you with apt resources and dedicated hiring. Hire dedicated Android developers from us to leverage expertise and build engaging solutions. Connect with our team for engagement models and hiring methods.